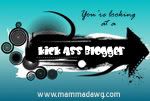 Almost as good as a blue Tiffany's box... This was bestowed on me by
Georgie
, she's funny, she knows a good blogger when she sees one *ahem* and she's SUPER helpful with her
how to
posts for the
new

bloggers
! Thanks girl!
Now, it is my turn to pass along the goodies. I bet my frequent
commenters
and friends are wishing they had a blog right about now, but, alas they DON'T and I can't be bought so, friend or no friend, these awards are going to the
bloggers
whose posts nourish me like a Red Bull in the morning. For those who don't know me, that is a very, very high compliment!
Don't let the rules slow you down, this is super fun and super simple to keep the ball and the
bloggy
love going.


Award 5

bloggers

! (this is the hardest part)


Let 'em know in your post or via email, twitter or blog comments that they've received an award


Share the love and link back to both the person who awarded you and back to http://www.mammadawg.com/2008/08/kick-ass-blogger-award.html


Hop on back to the Kick Ass Blogger Club HQ to sign Mr.

Linky

then pass it on (which you can also get to on the above link)
Here we
goooooooooooooooooooooo
:
1. I'm pretty much a lurker on her site, but I read every.single.post and I love, love , love her carnivals. Right now
Jen @
AbsolutelyBananas
is doing a
weekly writing prompt
and now that I am back from vacation I am SO gonna participate. She is super cool because she really cares what her readers think, she's open to suggestion and she's a great, great blogger, oh and a
wiz
with the
photoshop
, her
son has a great sense of humor too
!. I can only dream to write as well and
photoshop
the hell out of stuff... So, I don't know that she'll be a puddle over getting this award, but that's not what it is all about! Thanks for the awesome blog Jen!
2.
Headless Mom over @ The Adventures of the Headless Family
has a special place in my heart and my life...she knows way too many secrets about me and we have been friends since the 5
th
grade. We may have swapped spit with a few of the same boys over the years, but I'm just
sayin
'. Check out her blog she's funny, she posts awesome recipes and she writes with God on her heart. Luv ya,
muah
!
3.
Meghan @
AMomTwoBoys
is a daily favorite! She has these DARLING little boys and she's laugh out loud funny. She's smart, she's a wise ass and she, too, has a gift with the
photoshop
, the buttons, anything creative and she's on it! She's also the creator of
AllMediocre
and if you don't know what that is, and aren't a member
WTF
?! Go now, but be sure to come on back, oh and when you sign up (cause I know you will) let her know I sent ya!
4.
Steph

@
SerenityNow

!

SerenityNow

!
is a hoot and she's doing posts for 365 days in a row! Holy cow, I know I couldn't do it and I have such respect for her. She posted, er, her husband posted this GREAT post about
a computer virus that is going around
AND how to fix it (seems her hubby is an IT go to guy!) She posts these
AWESOME reviews
for Word of Mouth Mondays and she's a great supporter of her fellow
bloggers
, you rock
Steph
! and thanks for your support!
5. The last great blogger is
the king of Marketing,
Seth

Godin
and he's so up my alley. His books rock, he's right on with his marketing and I can only hope to learn from him to improve my business as well as a blog I do just for fun. I've read several of his books and they are awesome! Check him out, maybe he'll inspire the way you do business or write your blog. He's so my people!