I am loving the new phone and one of its benefits is I can read my favorite blogs while out and about! With a two week vacation under my belt and I am TOTALLY caught up on my blog reading, it would only be fair to share the great posts I've come across recently. Not only have I read some REALLY great stuff, but I've found some new friends (
waving at my new stalker
!) and I get to pass on this really fun new award. Ok, so honestly, anyone who knows me knows I LOVE an award, a certificate, recognition. OK, I love attention. I'll be honest. My job in TRW is one where I am the center of attention, I make people laugh, I make an a$$ of myself and I LOVE it. I only wish I could be as funny here, you guys would love this stuff!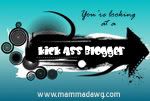 So, as
undeserving
silly as it is, I'm thrilled to get this little badge and hell no I'm not going to be all coy and say,"Oh, but I really don't deserve this." Bring it ON! Oh and I'd like to thank my
fans
fan
stranger who doesn't know me yet
you all! I'll be passing it on
per the rules
, to 5 of my favorite bloggers tomorrow so come back to
see if it was you
read some really GREAT bloggers! The rule is that you go away and check them out BUT COME BACK and let me know if you enjoyed then, mkay?
Now without further adieu, my
Blog Roll Stroll
:
This one call
Pee Purse
about had me dying laughing.
Headless was in Hawaii
this week, check her out! (Don't worry, she's totally fun and cool even when she isn't all "Aloha" and "Mahalo", and don't let the headless thing freak you out)
Meghan at
AMomTwoBoys
had been through the ringer this week with
preschool starting
and the
whole glasses debacle
. She's totally hip and smart and if you haven't checked out
AllMediocre
WHAT ARE YOU WAITING FOR? All the
coolest
mediocre bloggers are doing it!
Simple Mom
: I can only aspire to lead something called a simple life and that is why I love this site, I pretend that I'm going to do all the cool shit she does and it makes me feel better. She is beginning a 6 part series on
being unproductive and disorganized
(Right up my alley!)
Black Hockey Jesus at
The Wind In Your Vagina
is just truly a trip, but he posted this week about this really cool friend of his who came up with a cool app to
clean up your itunes
These looked cute for the kids and
easy and yummy
.
This is a totally
cool hip new site
and I have spent LOTS of time in there looking around, here are a
few places
to
start
.
Check them out and be polite while you are there, wipe your feet at the door, say please and thank you and, oh yeah, it's nice to leave a comment!