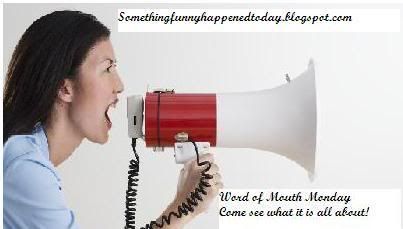 Tomorrow we try this all over again! I'm really excited about the service I am going to feature tomorrow! It will help you
bloggers
capture all those great posts running around in your heads, it will organize you and simply put it will make life easier. This is the ultimate in brain dump tools and totally techie, so right up my alley and BEST OF ALL-----> Free, the little fucker is FREE!!!
So, write up YOUR product or service review, post it to your blog, then come back HERE and link to your post! Oh the fun we'll have creating word of mouth about stuff you really should spend your money on! (or in my case, get all for FREEEEEEEEEEEEEEEEEEEEE)
P.S. don't laugh at my first effort at button making, I'm pretty impressed being that I have never done it before AND I don't have
photoshop
!!! So, now if I can clear it up and make it a
clickable
button for sharing I'll be all kinds of jazzed. Clearly I am not in marketing, but it will do for a first try. I tell ya, I have emailed several other
bloggers
asking about this mad skill that I do not possess, crickets, I tell ya, not ONE response. This
blogosphere
isn't as friendly as it thinks it is. BUT, it would make for a great post oh knowledgeable ones, I know I'd link to it again and again!